Big Brothers Big Sisters of Colchester names new executive director
(North River, Jan. 13, 2022) – The Big Brothers Big Sisters of Colchester (BBBS Colchester) board of directors is pleased to announce it has appointed Justin Dickie as the organization's new executive director, effective Jan. 5.
Dickie, 34, brings more than a decade of professional communications experience to the role. Most recently, the Oxford, N.S. native was a senior strategic communications advisor with the Canadian Mental Health Association, Ontario Division.
Prior to his work with CMHA Ontario, Dickie worked in media and community relations in professional sports, including the Canadian Football League's Hamilton Tiger-Cats and the top minor-league affiliates of the Toronto Raptors and Montreal Canadiens. He has also held communications roles with a national marketing firm and a government agency, and has worked as a reporter and writer in local news and for an international hockey magazine.
Additionally, Dickie has been a volunteer big brother since 2017, first in Oakville, Ont., and now locally.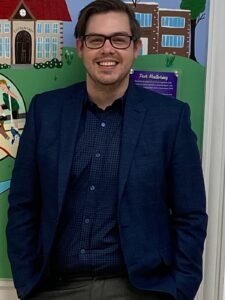 "The board of directors is thrilled to welcome Justin to the team," said BBBS Colchester board president Sabrina Wolthers. "He's joining a dedicated staff working hard to serve kids and families in our community. We feel confident that his past experiences and his enthusiasm for mentoring will be the perfect addition to our organization as we grow and expand. BBBS has exciting projects on the horizon and Justin is the perfect person to navigate our efforts."
"I'm incredibly thankful to the BBBS Colchester board for their faith in me," said Dickie. "My overwhelmingly-positive experience as a volunteer 'big' was the motivating factor for me to take on this role as executive director. While our focus as an organization is on improving the lives of young people and helping them to reach their full potential, in my experience, these relationships can be just as enriching for the mentor.
"As I acclimate to this role, I look forward to connecting with volunteers, parents, youth, donors and our community partners, as well as our community at large, to seek ways to enhance the BBBS Colchester experience and learn how we can bring the power of mentorship to more children and youth. This cause is very close to my heart and I'm honoured to have the opportunity to help grow this organization in our region alongside our existing staff of devoted, inspiring professionals."
About Big Brothers Big Sisters of Colchester
For more than 40 years, Big Brothers Big Sisters of Colchester has been enabling life-changing mentoring relationships to ignite the power and potential of young people in Colchester County and surrounding communities. Now based in North River, the organization matches volunteer mentors with youth in our region who could benefit from a supportive, encouraging relationship with an adult or peer. Learn more about BBBS Colchester programs and initiatives at www.bigbrothersbigsisters.ca/colchester.
-30-
For more information, contact:
Justin Dickie
Executive director
Big Brothers Big Sisters of Colchester
902-895-4562
justin.dickie@bigbrothersbigsisters.ca