Cathy (mentor) and Catherine (mentee) have been matched for two years in our In-school Mentoring program. January marks their two year anniversary and we are so happy to be celebrating this milestone with them.
The pair meet for one hour a week, during school hours in a space provided by the school. It's not hard to tell that they truly enjoy spending time together and have built a strong and trusting relationship.
"I treat her like she's my own. We have a lot of fun," Cathy said with a beaming smile.
Cathy and Catherine often spend time playing games, such as Hangman which she says Catherine taught her to play. "I'm always learning new things while spending time with Catherine."
Today Cathy and Catherine were about to adventure around the school to do some fun and artsy photography, that would hopefully be made into a scrapbook. They love to do arts and crafts together.
Cathy says that she finds mentoring extremely rewarding, which would reflect in her 12 years of dedication to our agency. Cathy first heard about the In-school Mentoring program while she was working as a Library Technician at the Public Library here in Truro. Her employer allowed her to adjust her schedule so she could take more time during lunch to meet with her mentee. She was originally matched with a young, elementary aged student and they stayed matched until he was graduating from Junior High. After that she was briefly matched with a student who moved away, and then came Catherine.
"What's so rewarding about being a mentor for Catherine is simply just spending time with this wonderful child. I get to watch her grow and blossom."
We are very fortunate to have a mentor like Cathy who clearly has her whole heart invested in our In-school Mentoring program. You could see the genuine joy in her face as she spoke about being a mentor for Catherine.
Thank you Cathy for your dedication and commitment to our agency, and for being a wonderful mentor for Catherine.
If you are interested in learning more about our In-school Mentoring program click here: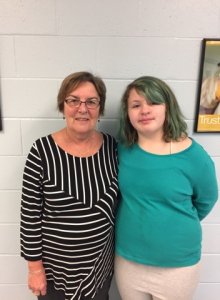 Cathy and Catherine, Jan 2018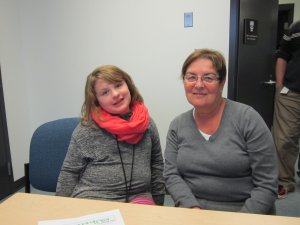 Cathy and Catherine on their Match Day in 2016